Ghost Patrol – Holy Moses!
I'm subscribed to the Threadless newsletter – there's always a design or two in there that really blow me away. This time I got hit by a tidal wave of awesome in the shape of Ghost Patrol. So first here's their shirt:
What I love about it is the strange otherworldliness. Um, I mean it's suggestive of a wider, broader and completely populated world. It's something I aimed for with the Eliza and Bankman design, though without the sort of sketchy realism next to the sketchy fabulous.
They make some amazing dolls as well that certainly seem to fit this world. For example:

And Ghost Patrol's graffiti is amazing, like this one drawn on the side of an abandoned appliance: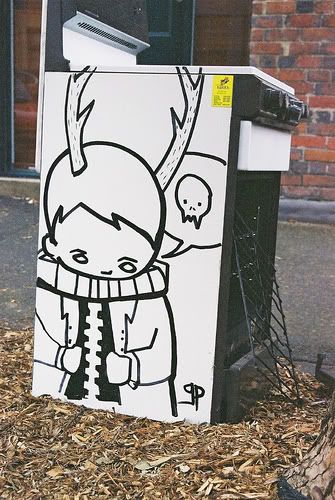 Again, check out the strange world that seems to be lurking behind that kid with antlers. Like Miyazaki forced to tell a story on a postage stamp. Amazing stuff, definitely an inspiration. Check them out at GhostPatrol.net. And damn it they got me trying to think of something more evocative than "Garrett Shirts."
---
Categorised as: Inspirations
---